WHRO Public Media 2022 Awards
Details

Written by Belinda Elliott
Category: Community
Published: 28 June 2022
WHRO Public Media has been honored to win several awards recently. From our Work Like A Girl series, to advertising awards for promotions, we are excited to celebrate these achievements.
"WHRO Public Media is committed to delivering outstanding content that enriches and educates our community. We are honored by the these awards and nominations," stated Bert Schmidt, president and CEO of WHRO.
Below is a list of our 2022 Awards.
Telly Awards
GOLD
Curate 757: Luisa Igloria
Online General-Biography
Luisa Igloria, a professor of English at Old Dominion University, is the 20th Poet Laureate of Virginia.
Curate 757 Season 6
Online Series-Series: Documentary
The Curate 757 series explores the thriving art scene in Hampton Roads. Each week, the program features an area artist. Each person works in a different medium - from painting, to sculpture and photography, to the spoken word. Each episode originally aired as a part of the parent "Curate" series, which also offers profiles of national artists.
---
SILVER
Greg Gutty
Non-Broadcast General-Cultural
Curate Season 6 Episode 8
Television General-Cultural
Buried History: First Baptist Church
Social Video General-D&I
Anderson Johnson
Online General-Religion/Spirituality
Swamp Dogg
Online General-Entertainment
The Earth Remembers
Online General-D&I
Flooding Farmland: Eastern Virginia Farmers Navigate Sea Level Rise
Social Video General-Sustainability
Help The Garden Grow
Non-Broadcast General-Sustainability
A Story of Patients
Social Video General-Health & Wellness
BRONZE
Cannabis Sniffing K-9s: Out of a Job?
Social Video General-Education & Discovery
Freeman Vines
Online General-Social Issues
Ms. Martha Reads at the Children's Museum - Promo
Local TV General-Not-for-profit
VisionZero (for City of Norfolk)
Social Video Series-Series: Social Responsibility
---
Emmy Awards
Magazine Program (Single Program)
Curate: Season 6 Episode 8
Neil Grochmal (Producer/Videographer/Editor), Kendrick Hopkins, Jr. (Producer/Videographer/Editor) Mike Diller (Producer/Writer)
---
Chesapeake Heritage (Short Form Content)
Gordon Campbell
Neil Grochmal (Producer/Videographer/Editor)
---
Arts/Entertainment (Short Form Content)
Mascon Leather
Kendrick Hopkins, Jr. (Director/Videographer/Editor)
---
Diversity/Equity/Inclusion (Short Form Content)
Freeman Vines
Lisa Godley (Producer/Writer)
Neil Grochmal (Videographer/Editor)
---
Societal Concerns (Short Form Content)
Cannabis Sniffing K-9s: Out of a Job?
Lisa Godley (Producer/Writer)
Brandon Nance (Producer/Editor)
---
Public Media Journalists Association Awards
2nd place - Audience Engagement
Another View "Law Enforcement From the Police Perspective"
2nd place - Series
2nd place - Use of Sound
It's Coming Quicker Than We Realize:
Reckoning with a future of more flooding
---
Virginia Association of Broadcasters Awards
First Place:
Best Human Interest Series
Musician and luthier Freeman Vines makes guitars from found materials that come with a complicated and sometimes tragic history. The hanging tree wood from a tree once used in a lynching has inspired some of his most creative pieces.
---
Best in Investigative Reporting
Buried History: First Baptist Church (WHRO TV)
For centuries, the roles that African Americans played in shaping the U.S. have been buried. And when it comes to telling the full history of our country, their significance is often dismissed. In historic Williamsburg, Virginia, with the dramatic discovery of the First Baptist Church's foundation and evidence of a burial site, archaeologists are unearthing an untold story.
---
Best Public Service/Community Event
A weekly Facebook segment featuring stories written by local children. Join us each week online to hear a new story.
---
Outstanding News Series
Tapping Gaston is a four-part limited series that recounts the process of Virginia Beach planning and finishing the Lake Gaston pipeline, which is now the city's main water source. It's been 23 years since the deal was finalized the pipeline became fully operational.
---
Second Place
Best Radio Personality or Team
Jerry Carter host of the Blues Traffic Jam (WFOS)
---
Best in Investigative Reporting
At a Crossroads (WHRO Newsroom)
It's not a question of if parts of coastal Virginia will go underwater, but when. How is the region grappling with that reality?
---
Best Station Promotion/Contest
WHRO Values Promo (Marketing)
---
Virginias Associated Press Broadcasters Awards
Best Light Feature:
2nd Place, Jordan Christie won for her story The Legacy of Grace Sherwood, the Alleged 'Witch of Pungo'.
---
Best Serious Feature:
2nd Place, Sam Turken (former WHRO reporter) won for his story It's Coming Quicker Than We Realize: Reckoning With a Future of More Flooding.
---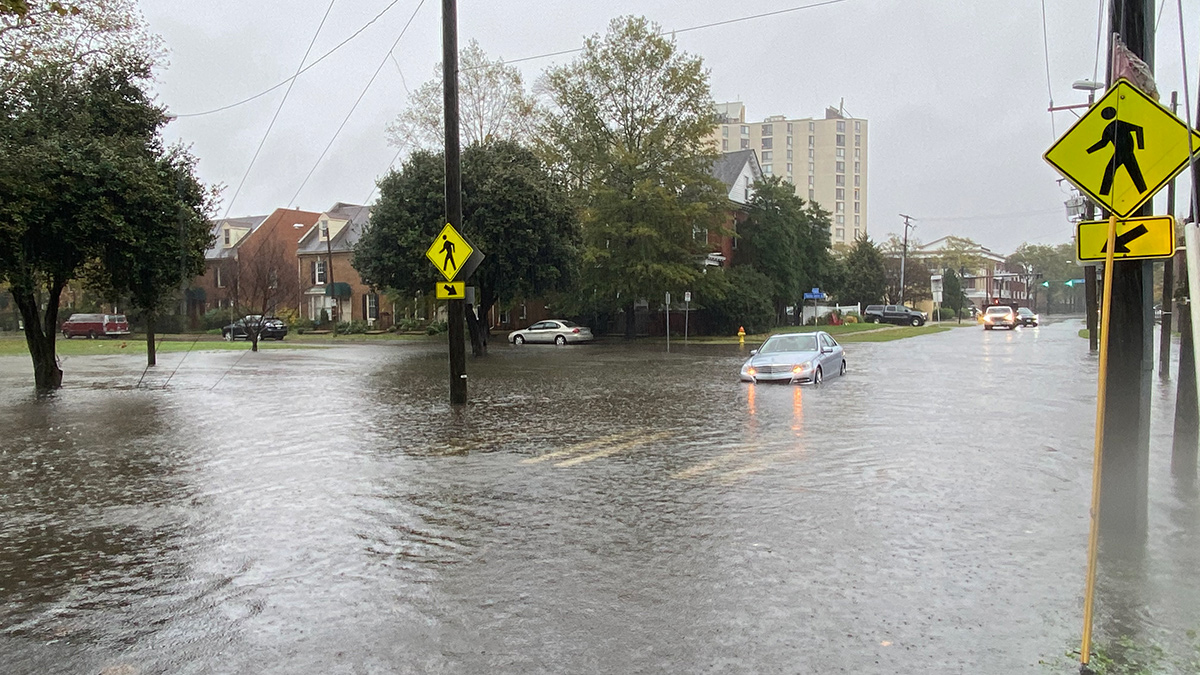 Best Specialty Reporting:
1st Place, Sam Turken (former WHRO reporter) for Sea Level Rise and Environmental Coverage.
2nd Place, Ryan Murphy for coverage of Race in Hampton Roads.
---
Best Investigative Reporting:
1st Place, Paul Bibeau for his story More Than 400 Law Enforcement Calls Came From a Gloucester Assisted Living Facility. Will It Stay Open?
---
American Advertising Awards - Hampton Roads
Silver Award
Category: Art Direction—Campaign - WHRO 60th Anniversary Retro Campaign
WHRO Public Media celebrated its 60th anniversary last year. Check out some of the historical facts and photos at whro.org/60.
Silver Award
Category: Public Service Campaign - VisionZero
Produced for The City of Norfolk, this video spot encourages drivers to slow down and stay alert as they share the road to avoid accidents.
---
Public Media Awards
First Place
Category: Education Resources for the Community
VA TV Classroom Season 2
In response to a competitive grant from the Virginia Department of Education (VDOE), WHRO created and produced two television shows, Learn and Grow (Grades K-3) and Continue to Know (Grades 4-7), under the Season 2, VA TV Classroom program. WHRO shared the compiled, closed-captioned shows with the other Virginia Public Broadcast Stations (VPM, WBRA, and WETA) and provided the shows on an FTP site for school divisions across the Commonwealth to access and use as desired. These two shows ran for six weeks, September 14, 2020 – October 23, 2020. Additionally, WHRO made the live shows available for streaming on our website and shared the iFrame embed code and a generic promo with the other Virginia Public Broadcast Stations so they could easily post, brand, and promote the shows on their websites. Furthermore, WHRO split each daily show up into four segments, re-closed captioned the shortened videos, and ingested them into eMediaVA and #GoOpenVA.
---
First Place
Category: Marketing & Communications - Annual Report
Dimensions Membership Guide
WHRO is delighted to offer our monthly magazine, Dimensions, which is mailed to 26,000 members each month. In addition to radio and television schedules, Dimensions provides an inside look at WHRO Public Media – the work we're doing in education and outreach, community events and opportunities for members.
This past year, we have focused on our local content for this publication and our members are really loving it. Our feature stories get a lot of fan mail -- people who are relating with the people and the stories. It has also resulted in new unsolicited gifts as a result of the content.
---
First Place
Category: Marketing & Communications - Promotion
Work Like a Girl: Pierette Swan
Women without education or training past high school are most often employed in hospitality, child care, and retail. WHRO launched the Work Like A Girl campaign to raise awareness of other careers that women are excelling in. Our goal was to find young vivacious women in these careers to help other young women understand they are great careers for them.
Through our social media Work Like A Girl engagement campaign we were introduced to Pierrette Swan and worked with her to create an exciting video promo. Her passion for her work, her community service, and he energy made her a perfect candidate for a Work Like A Girl promo and help to dispell the stigmas around women in skilled careers. She became our top ambassador and we used her for several additional videos. Feedback from partners has been very positive.
---
Public Media Awards - NETA Conference September 2022
Winner - Overall Excellence in Innovation
Immersive Environmental Learning Van Program
WHRO's GreenBeats Environmental Van Program, an innovative and immersive educational experience, is a collaboration between WHRO and the Virginia Stage Company. This program, one of several under WHRO's Batten Environmental Education Initiative, centers on WHRO's popular GreenBeats animated musical video series. Learn more.
Finalists
WHRO placed as finalists in the following categories:
Performing Arts - Curate 757: Swamp Dogg
Short Form - Curate 757: Freeman Vines
Teacher Professional Learning - Cultural Competence Professional Development for Virginia
Learning Events - The GreenBeats Environmental Experience
Innovation in Education - Student Advisory Board
Social Media - Ms. Martha Reads with the First Lady
---
2021 Director's Community Leadership Award
FBI Norfolk selected WHRO Public Media, as the 2021 Director's Community Leadership Award recipient.
FBI leaders pointed to how quickly WHRO's team of educators developed services including:
VA TV Classroom that featured teachers teaching on TV for grades K-10
A series of professional development webinars on distance learning for educators
Nationwide access to 25 online high school courses
A new weekly Facebook series, Ms. Martha Reads, featuring stories written for children by other children.
Learn more about this award.
---
2022 Global Diplomacy Award
The Norfolk Sister City Association recently presented WHRO Public Media with their 2022 Global Diplomacy Award for work in the community.
Support for WHRO comes from