WHRO Public Media Wins 10 Virginia Association of Broadcasters Awards
Details

Written by Belinda Elliott
Category: Community
Published: 27 September 2021
WHRO Public Media recently won 10 Virginia Association of Broadcasters (VAB) Awards. The station was awarded seven first-place awards and three second-place awards.
WHRO won the following awards:
First Place
Outstanding News Series:
"Detroit's COVID-19 Outbreak Hits Home for Virginia Beach Woman"
Headlines have detailed the celebrities who have died from COVID-19. But there are names you've never heard of who had more impact on people here in Hampton Roads.
---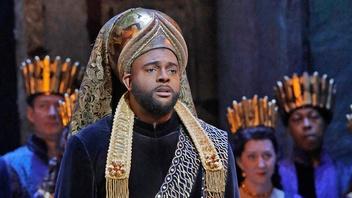 Best human interest series:
A native of Suffolk Virginia, Ryan Speedo Green experienced a difficult childhood that ultimately led to juvenile detention at the age of 12. Green turned his life around with the help of dedicated teachers and learned to sing opera. At only 33, still young for a baritone, Green has performed on stages around the world, including the New York Metropolitan Opera.
---
Best station promotion/contest:
Challenge to Change
2020 has been a challenge but we always look for a bright side. WHRO is proud to have brought more educational resources to more Virginians than ever before!
---
Best public service/community event:
Work Like A Girl is part of WHRO's American Graduate: Getting to Work national initiative, funded by Corporation for Public Broadcasting, to create awareness of the great opportunities for young women in skilled careers.
---
Best radio personality or team:
HearSay with Cathy Lewis Final Show
On the last episode of HearSay past producers Danny Epperson, Tayla Burney, Hannah Martin, Paul Bibeau and Jonah Grinkewitz discussed their time working on the show.
---
2020 award for creative excellence
WHRO Public Media worked closely with the Virginia Department of Education to create the second season to provide SOL-aligned instruction to students in grades K-7 who are unable to access other distance learning options due to a lack of high-speed internet. Public media stations across the Commonwealth aired VA TV Classroom during the pandemic while schools were closed.
---
Best in investigative reporting:
"Five Hampton Roads Police Departments Have Military Vehicles. Here's How They Used Them."
Reporter Paul Bibeau explores the use of military vehicles by local police departments.
---
Second Place
Best radio personality or team:
Hosts Share Memories From 30 Years of Public Radio
As we celebrated the 30th anniversary of WHRO and WHRV FM, WHRV's Gina Gambony interviewed our "30-year heroes," those at the station who have been with us for 30 years or more.
---
Best public service/community event:
A weekly Facebook series featuring stories written by local children. Each week hear Ms. Martha read a new story, Fridays at 10 a.m.
---
Best human interest series:
Arts Undercurrent: Generic Theater and A Chorus Line
Generic Theater was planning on presenting the musical A Chorus Line this summer. When the pandemic hit, every part of their creative process, from auditions, to dance rehearsals, to the actual show, went virtual. Rebecca spoke with General Producer Shon Stacy about directing, rehearsing, and filming in the age of COVID-19.
Support for WHRO comes from